[EXCEPTIONAL PROPERTIES]
2019-09-10
Welcome to Jennifer and Konrad's place on Rue Sala
Their cases seem to be almost permanently packed and sat in the apartment's bright, spacious entrance hall ready to go. In fact, Jennifer and Konrad have recently returned from a visit to their hotel in Costa Rica, and Konrad is about to leave again for Germany, but this globe-trotting family has chosen Lyon, where they have been living for two years, as their base. Only BARNES got a private tour of their home.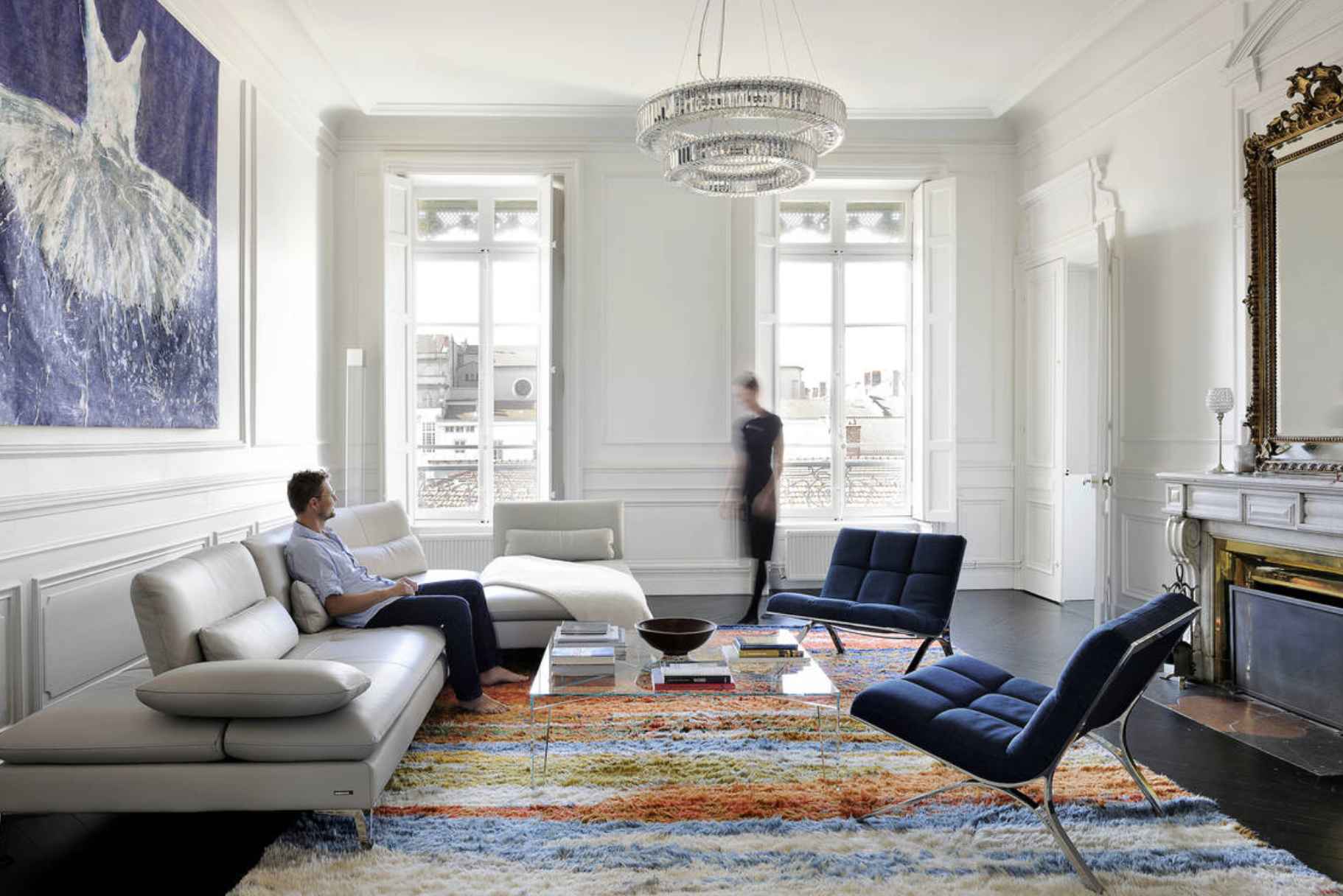 Having left the United States to open a luxury hotel in Costa Rica, Jennifer and Konrad had been looking for a base in Europe, where their roots lay, and would eventually settle on France, and more specifically Lyon, which they believed to be the city that best accommodated their family life and their love of travel. "We went to visit the BARNES Lyon agency and they put us in touch with their international consultant, Philippe Fourcade, who continued to keep in touch with us, even once we had returned to Costa Rica. As far as I'm concerned, this is what really makes the difference between BARNES and other real estate agencies. Philippe identified our needs to a T and always took the time to answer any questions we had". Jennifer and Konrad have two young children and both work from home. "He understood how we worked and had us visit this apartment that perfectly matched our expectations – spacious (2,368 sq ft), not overlooked by any other properties, ideally located in the centre of Lyon and yet unbelievably peaceful and quiet", the couple explains.

"We love the flow of the apartment - it's very liveable"
The plans for the apartment did, however, have to be revised. "Philippe introduced us to four architects and we chose to go with David Burles of the Dorga agency (in Lyon's 6thdistrict), who managed to create a very liveable home with completely separate 'reception' and 'family' areas". When it came to decor and furniture, the couple primarily turned to Roche Bobois, as well as Claude Cartier for the bar room furniture, whilst the walls are adorned with large canvases that put their own stamp on each room, including a piece by a Mexican painter (purchased in New York) in the entrance hall, one by Spanish artist Natalia Villanueva in the kitchen (Carré d'Artistes, Rue de Brest, Lyon) and even a piece by painter Ewa Bathelier in the lounge.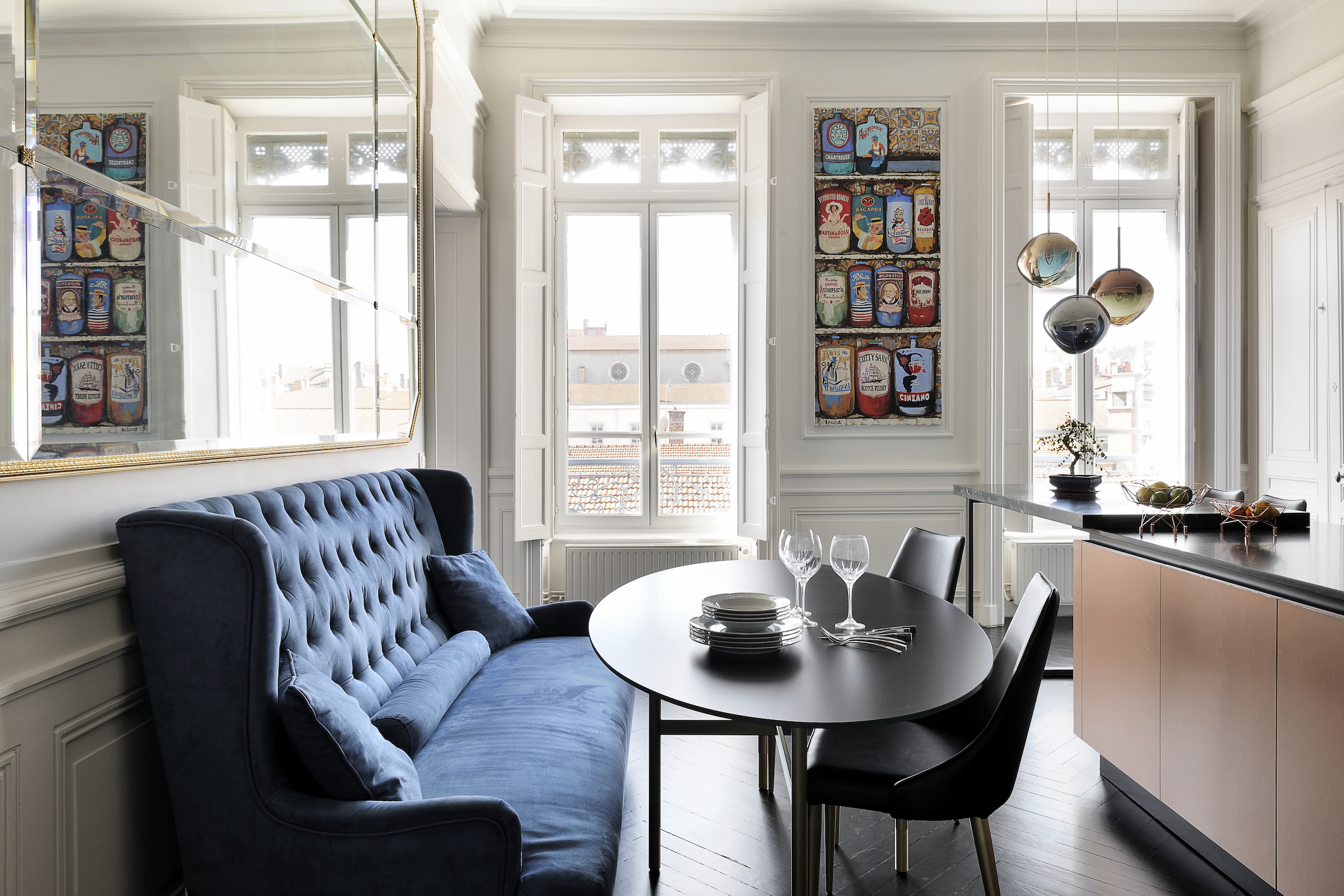 "My favourite room is the cosy and intimate bar room"
The kitchen, designed by Dorga, lies at the centre of the apartment and features a huge mirror that reflects the Lacanche range cooker, which is itself topped with a glazed tile hood - a great room for living - and indeed working - in! Jennifer has even set up her office here, tucked away inside the wood panelling on the walls, but her favourite room is actually the bar room. "The guys at Dorga took their inspiration from some photos we liked in magazines", she remembers. The room features a harmonious combination of styles, from the children's oversized faux-fur beanbag to the imposing bar and the rows of colourful bottles and crystal glasses it houses, not forgetting the Art Deco-inspired sofa and armchairs that stand alongside a beautiful antique sideboard purchased second-hand at the Puces du Canal flea market. "It's so much fun to decorate your apartment yourself, and our decor is changing all the time, as we unearth new finds" - an ever-changing form of art that is perfectly well-suited to a family that is always on the move.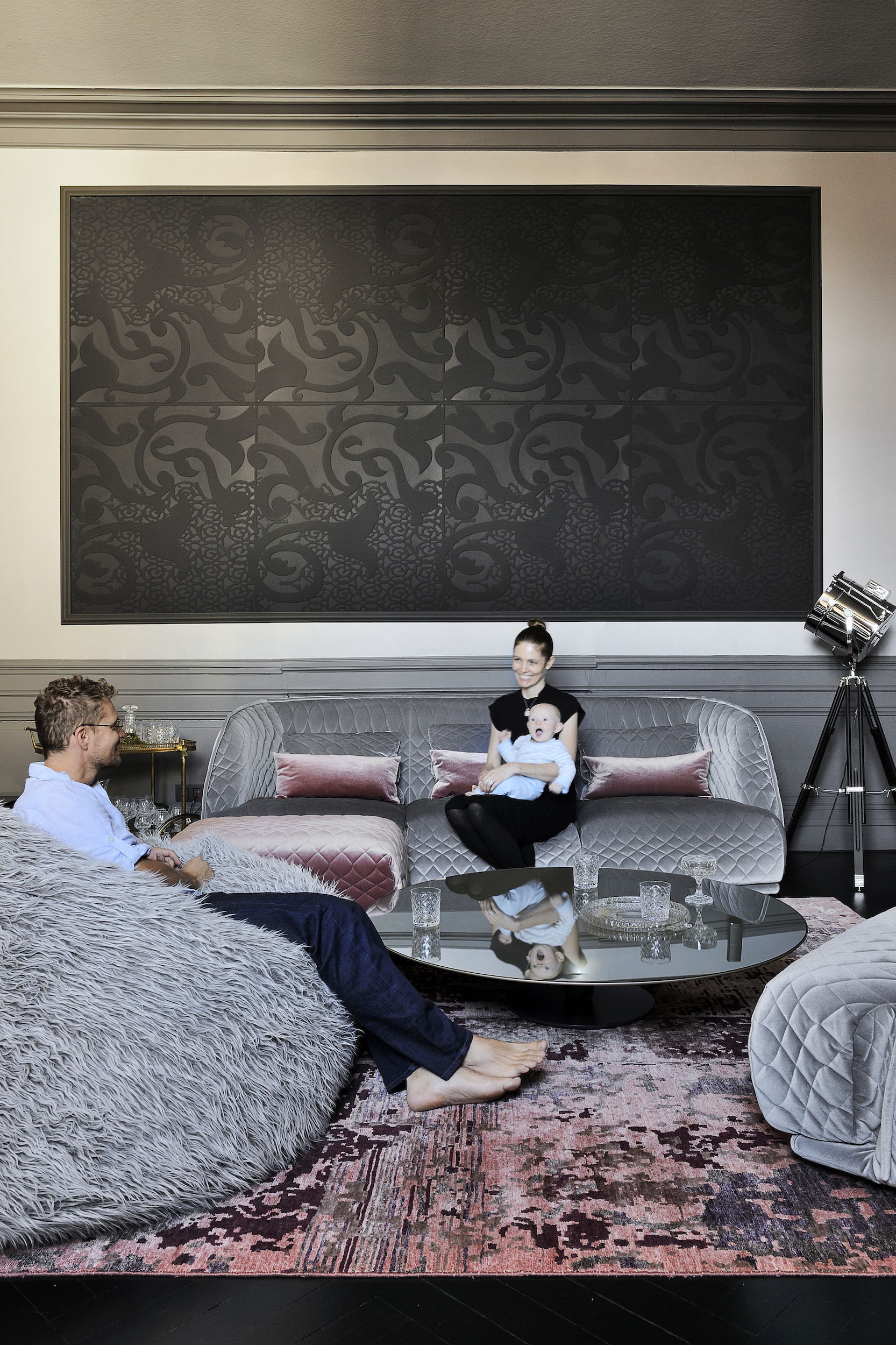 Photo credit: Frenchie Cristogatin