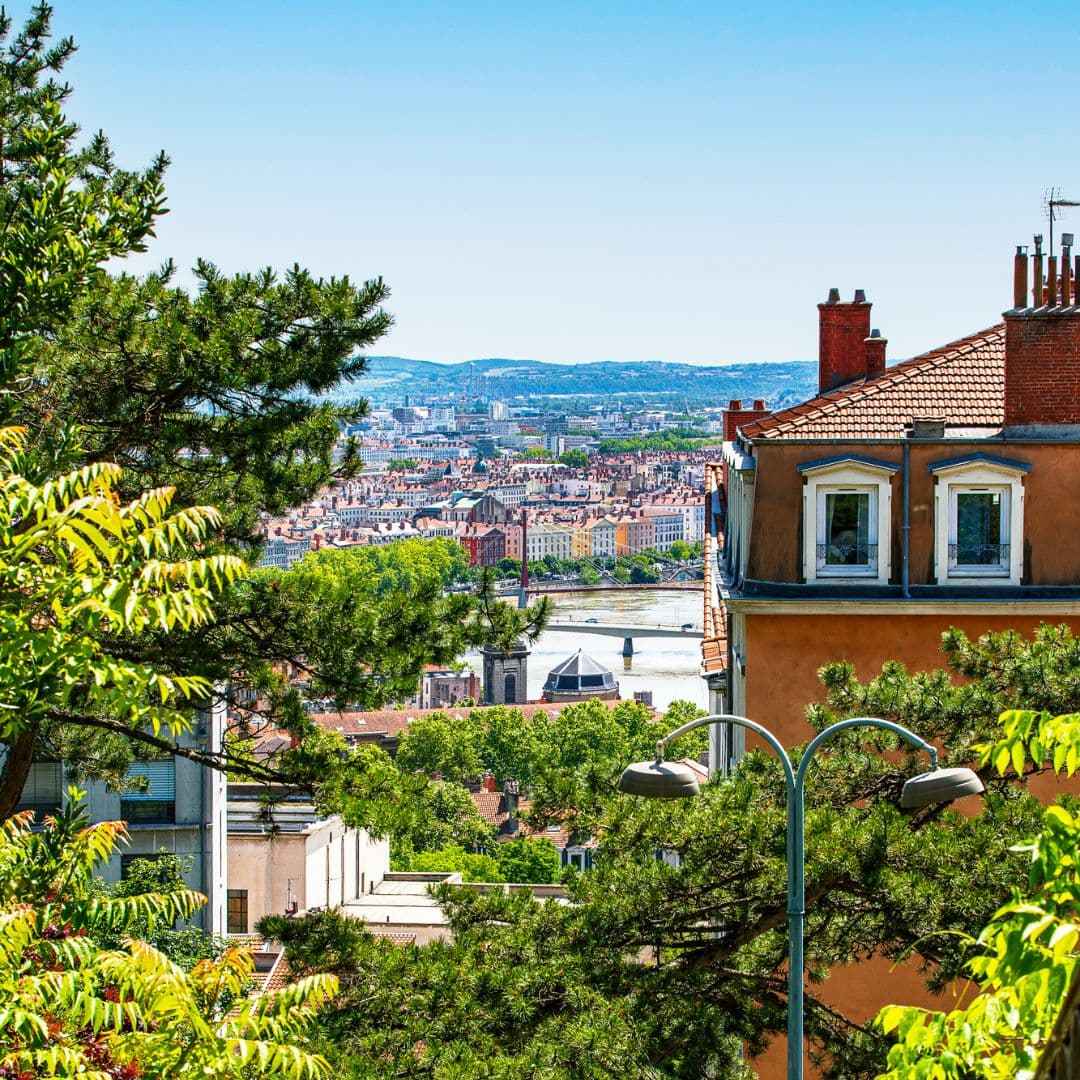 Croix-Rousse
What price per square meter?
Estimate your property according to its features
The picturesque and lively Croix-Rousse is a symbolic neighborhood of the city of Lyon. An island "unto itself" nestled on a hill between the Rhône and Saone rivers, it is characterized by its unique urban planning.
Living here is a lifestyle choice!
The Croix-Roussians are extremely attached to their neighborhood and will tell you that it is their own little village. It is true that Croix-Rousse was independent in the past and was not annexed to Lyon until 1852. The historic separation between the hill and the city lingers on in people's minds! Its bohemian, festive and urban lifestyle has always held great appeal. The neighborhood is teeming with activity both day and night with its market, small boutiques, trendy cafés and traditional "Bouchon Lyonnais" restaurants.
History of Croix-Rousse
This area has a rich history that has left a unique heritage inscribed on the UNESCO World Heritage List in 1998. As a center of the silk industry, where the first French workers' revolts were born, Croix-Rousse has been deeply marked by its history.
In 1512, Louis XII decided to build a rampart at the top of the hill to protect the city of Lyon thus isolating the plateau: a separate area that, so they say, was named after an ochre-colored stone cross erected on the plateau in the 16th century. The borough grew thanks to farming and vegetable growing, and eventually trade, gradually attracting traders and craftsmen. In the 18th century, these traders and craftsmen favored Croix-Rousse over Lyon owing to its lower taxes. Many religious communities also settled here. During the Revolution, their lands were sold and the Canuts (silk workers in Lyon) took up residence in Croix-Rousse.
Architecture tailored to the Canuts
Croix-Rousse became a major industrial silk weaving center and underwent a radical transformation. At the beginning of the 19th century, Lyon became the first working-class city of France marking its urban design. In order to accommodate the impressive looms of the Canuts, buildings with a ceiling height of more than 13ft built with large openings allowing plenty of light to filter in thus flourished on the hill. The ceilings were also reinforced by oak beams, spaced so as to allow for the loom fixtures.
To accommodate the ever-increasing number of workers, their families and their weaving looms, the construction of 5 or 6-storey buildings was sped up and new streets appeared in a manner that was sometimes quite chaotic.
Thanks to the establishment of the silk industry, Croix-Rousse quickly earned the name of "working hill" as opposed to Fourviere, "the praying hill".
In 1852, Croix-Rousse was annexed to Lyon and major works were initiated, including the construction of the Hôpital de la Croix-Rousse hospital, and the creation of a funicular, known as the "ficelle" (string) among the residents of Lyon.
Good living on the plateau
The Croix-Rousse plateau, with its magnificent views over Lyon and its activities, has long attracted a varied mix of people: the middle-class and the lower classes of Lyon rubbed shoulders with the "bohos", artists and students. A cosmopolitan district and an exceptional atmosphere of a "village in the city" much loved by its inhabitants. Boules pitch, daily market along the boulevard, squares surrounded by bistros... the neighborhood retains a sense of easy living.
The boulevard de la Croix-Rousse has its market every morning from Tuesday to Sunday bustling with lots of traders and producers. A little further, the Grande Rue de la Croix-Rousse is just perfect for a leisurely stroll to discover the independent franchised shops and designer workshops in the adjacent streets. Food lovers are certainly not forgotten with a wide array of quality restaurants, cheese makers, pastry chefs and renowned chocolatiers (Sébastien Bouillet, Pralus, etc.)
At the end of the boulevard de la Croix-Rousse stands the famous "Gros Caillou" (Big Pebble), a symbol of the neighborhood dug up in 1861 during the drilling work carried out as part of the construction of the Croix-Rousse funicular. Another symbol, the "Mur des Canuts" (Silk Workers' Wall), is a 13,000 sq ft fresco depicting Croix-Rousse and its inhabitants.
There is the 11.12-acre Parc de la Cerisaie for those yearning for greenery and space for the little ones to run around. It surrounds a large bourgeois house called Villa Gillet built by the wealthy industrialists in 1913.
Those interested in sports should head to the Parc de la Tête d'Or (easier to get to than the uphill return journey!)
Evening jaunts in Croix-Rousse
Croix-Roussians are spoilt for choice when it comes to evening outings! No need to go very far. The Théâtre de la Croix Rousse, inaugurated in 1931 by Édouard Herriot, is a popular spot, as are the numerous café-theatres in the neighborhood: le Rideau Rouge, le Nombril du Monde, etc.
Traditional Bouchons Lyonnais, trendy cafes, restaurants... the list is long for an enjoyable evening out on the terraces of the charming squares of Croix-Rousse, weather permitting.
Education & Transport in Croix-Rousse
In Croix-Rousse, our children are kings! Private or public, there is a wide variety to choose from.
Private kindergarten & grade schools
Charles Demia grade school / Saint Denis kindergarten & grade school / Providence des Trinitaires kindergarten & grade school
Public kindergarten & grade schools
Commander Arnaud kindergarten school / Les Entrepôts kindergarten & grade school / Georges Lapierre kindergarten & grade school / Jean de la Fontaine kindergarten & grade school / Joseph Cornier kindergarten & grade school / Le Gros Caillou kindergarten school / Les Petits Canuts kindergarten school
Middle schools
Jean-Baptiste de la Salle private middle school / Saint Denis Collège Les Chartreux- Saint Charles private middle school / Saint Exupéry public middle school / Clément Marot public middle school
High schools
Saint Charles de Serin private high school / Saint Exupéry public high school / Camille Claudel public vocational high school
Find the different establishments on the Lyon website: kindergarten & grade schools, middle & high schools in Croix-Rousse
The area is well connected by the Croix-Paquet, Croix-Rousse and Hénon metro stations.
Geographical data
Croix-Rousse
HOUSING
Distribution of residences
14,376
Main residence
465
Secondary residence
1,213
Vacant property
401
Number of houses
15,507
Number of apartments
POPULATION
Age distribution
Total:28,346
Breakdown Male/female*
15,206
Women
13,140
Men
Composition of families
Children under 25
47%
1 child
39%
2 children
11%
3 children
2%
4 or more children
Household marital status: 7,641 married couples 15,923 cohabiting couples
EMPLOYMENT AND INCOME *
Socio-professional population category
Medium household income
$30,670.00
Medium household income