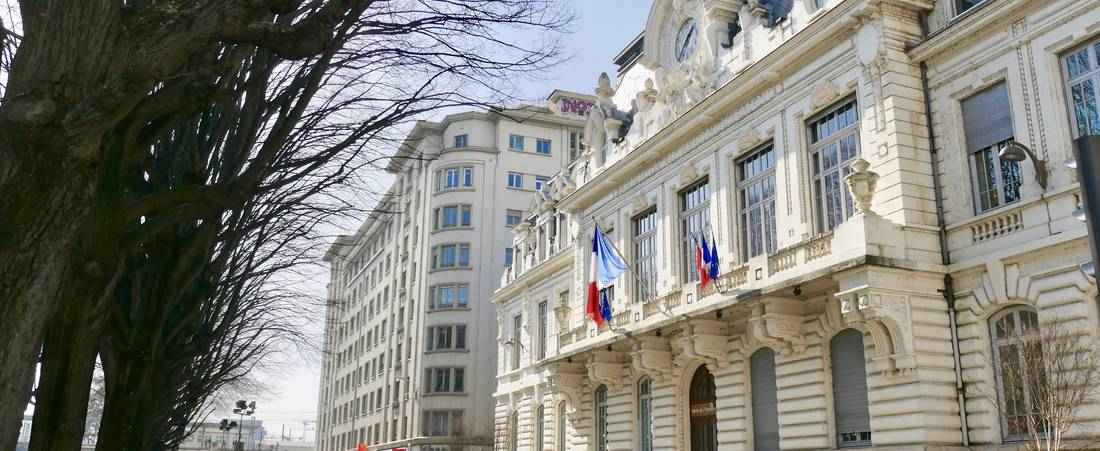 Jean Macé
What price per square meter?
Estimate your property according to its features
The lively Jean-Macé district, in Lyon's 7th arrondissement, has become the new bohemian middle-class district thanks to the opening of numerous original and trendy venues that appeal to its young, dynamic population. BARNES Lyon gives you the guided tour of this district, and all the other districts of Lyon.
History of the Jean Macé district
Who was Jean-Macé?
The district, square, metro station and railway station bear the name of the teacher and journalist Jean-Macé (1815 - 1894), who founded the Ligue pour l'enseignement association for popular education and teaching in 1866. His commitment and initiatives led to free and compulsory secular education. In 1888, Jean-Macé chaired the Congress of the Ligue in Lyon.
The history of a square
The history of the Jean-Macé district began with the construction of its square after the destruction of the Fort du Colombier at the end of the 19th century. The intention was to create a square at the end of Avenue Maréchal de Saxe, now Avenue Jean Jaurès. The square came into being in 1903 with fine gardens and attractive rows of trees but, initially, very few buildings around it. The latter were built over the following years.
The 3rd arrondissement was divided with the creation of the 7th arrondissement in 1912. The town hall was built on the square by the architect Charles Meysson (who also created the gates of Lyon's Parc de la Tête d'Or) and was completed at the beginning of the First World War. Some plots of land were still available and several projects were considered, including a plan for a trade union centre (Bourse du Travail) by Tony Garnier. In the end, the Luna Park took up residence here for a certain period and the buildings of the Société Générale and Crédit Lyonnais banks were built here.
In 1944, the square and its rail facilities were bombed. Part of the district was completely devastated. It was rebuilt in the 1950s, with new buildings in particular. It was not until 8 December 2009 that the Lyon-Jean-Macé railway station was reopened.
Today, Avenue Jean-Jaurès thus crosses Place Jean Macé, forming four French formal gardens, one on each side. Here several major streets converge, including Rue du Professeur-Grignard, Rue Jaboulay, Rue Domer and Rue Parmentier. All forms of public transport are accessible at this crossroads, with metro, tram, bus and railway stations.
Life in the Jean-Macé district
The 7th arrondissement is the largest in the City of Lyon, extending over an area of 9.75 sq.km, with more than 81,000 inhabitants. Its proximity to the Presqu'île and the Part-Dieu rail station, its excellent restaurants and the Berges du Rhône pathways along the river bank make it a highly sought-after living environment for younger inhabitants. Jean-Macé is the 7th arrondissement's most prestigious neighbourhood, thanks to the reputation of its central, lively and friendly square.
The district extends from Lyon-Jean-Macé railway station to the intersection of Avenue Berthelot with Route de Vienne. It is bounded to the north by Rue Chevreul and Rue du Repos. The area is very well connected to the rest of the City by means of metro, tram and numerous bus lines, as well as to the rest of the Lyon region thanks to its railway station. The shuttle bus to the airport also stops here. Saint-Joseph Saint-Luc Hospital on Quai Claude Bernard is just 5 minutes away. The district is also expanding thanks to the arrival of local shops and original venues, which attract new inhabitants.
Living in Jean-Macé: going out
As far are as good places to go are concerned, Victoria Hall offers cocktails and sophisticated delicacies "in a setting combining luxury, peace and voluptuousness". This old townhouse has lost none of its splendour of yesteryear.
In a more fun and trendy atmosphere (a fine collection of rubber rings can be seen hanging from the ceiling), the Mama Shelter hotel and restaurant serves simple, tasty dishes, with the sole aim of making you feel at home.
Rue Chevreul is the place to go for Lyon's best Ramen at Djizan Ramen or to sample the best regional products at Kitchen Café.
And to finish off, discover a unique restaurant in an unusual setting: La Commune, a vast international canteen where chefs serve original and authentic creative cuisine using fine products sourced from local producers.
Parc Blandan: the district's greenbelt
Sports lovers will be in their element with the Berges du Rhône footpaths on one side and Parc Blandan on the other. Situated at the northern end of the district and poised between the 3rd, 7th and 8th arrondissements, Parc Blandan was inaugurated in September 2014 and extends over an area of 17 hectares. The park is built on the grounds of an old military fort dating from 1864, known as La Motte, which is still standing and open to visits.
Parc Blandan provides a huge playground for children, as well as an area for walking, relaxation and sports activities. A great alternative to the Parc de la Tête d'Or. Numerous fully-equipped sports grounds are open to all for football, badminton, volleyball and basketball. A large area of the park is also devoted to facilities for skateboarding, scooters, roller-skating and BMX riding. A green haven for both children and adults at the heart of the City of Lyon.
Real estate in Jean-Macé
Apartments with a great deal of charm can be found in the oldest buildings, as well as some family apartments. Many of the latter have been subdivided due to the high demand for rental properties with small surface areas. However, a few high-quality family properties can still be found, whether as a residence or as an investment. The district's must-have: an apartment on Place Jean-Macé with clear views of the town hall, with its pretty illuminations after nightfall.
With the 7th arrondissement's numerous faculties such as Jean Moulin Lyon 3 University and ENS Lyon, Jean-Macé is a highly sought-after area among investors. Small surface areas constitute a good investment. These studio and 2-room apartments can easily be let to students and are easily resold. Property in Jean-Macé is a sound investment. Moreover, the district's inhabitants are very young and 70% live in rented accommodation.
Over the last decade, new buildings erected on available and usable land have met with great success. Indeed, new developments are now very rare and those wishing to build properties on architects' plans are inclined to look for sites around Gerland and Parc Sergent-Blandan. Jean-Macé is also a family district with numerous day nurseries and schools for your children throughout their schooling. In the future, the Duvivier project is set to provide new accommodation, offices and shops, as well as a school catering for 14 classes and a day nursery of 36 cradles by 2023, all just 800 metres from the district in the area around Impasse des Chalets and Route de Vienne.


Practical information
Schooling
Public schools
Berthelot Nursery School
Julie-Victoire Daubié Nursery and Primary School
Crestin Nursery School
Georges Clémenceau Lower Secondary School
Jean-Macé School
Private schools
Saint Michel School
Notre-Dame School
Saint Louis Lower Secondary School
Chevreul Lestonnac School Complex
Saint-Joseph Upper Secondary School
Hector Guimard Upper Secondary School
Belmont Upper Secondary School
Transport
SNCF railway station
Metro line B
Tram T2
Bus lines C4 C7 C12 C14 35 Zi6
Rapid access to the motorway by car, via Avenue Berthelot.
Markets
Place Jules Guesde organic produce market
Place Jean Macé market: Wednesdays and Saturdays from 6am to 1:30pm
Our latest properties for sale on Jean Macé
Geographical data
Jean Macé
HOUSING
Distribution of residences
7,795
Main residence
280
Secondary residence
629
Vacant property
16
Number of houses
9,319
Number of apartments
POPULATION
Age distribution
Total:14,481
Breakdown Male/female*
8,009
Women
6,473
Men
Composition of families
Children under 25
49%
1 child
35%
2 children
11%
3 children
5%
4 or more children
Household marital status: 9,269 married couples 3,383 cohabiting couples
EMPLOYMENT AND INCOME *
Socio-professional population category
Medium household income
$26,747.00
Medium household income