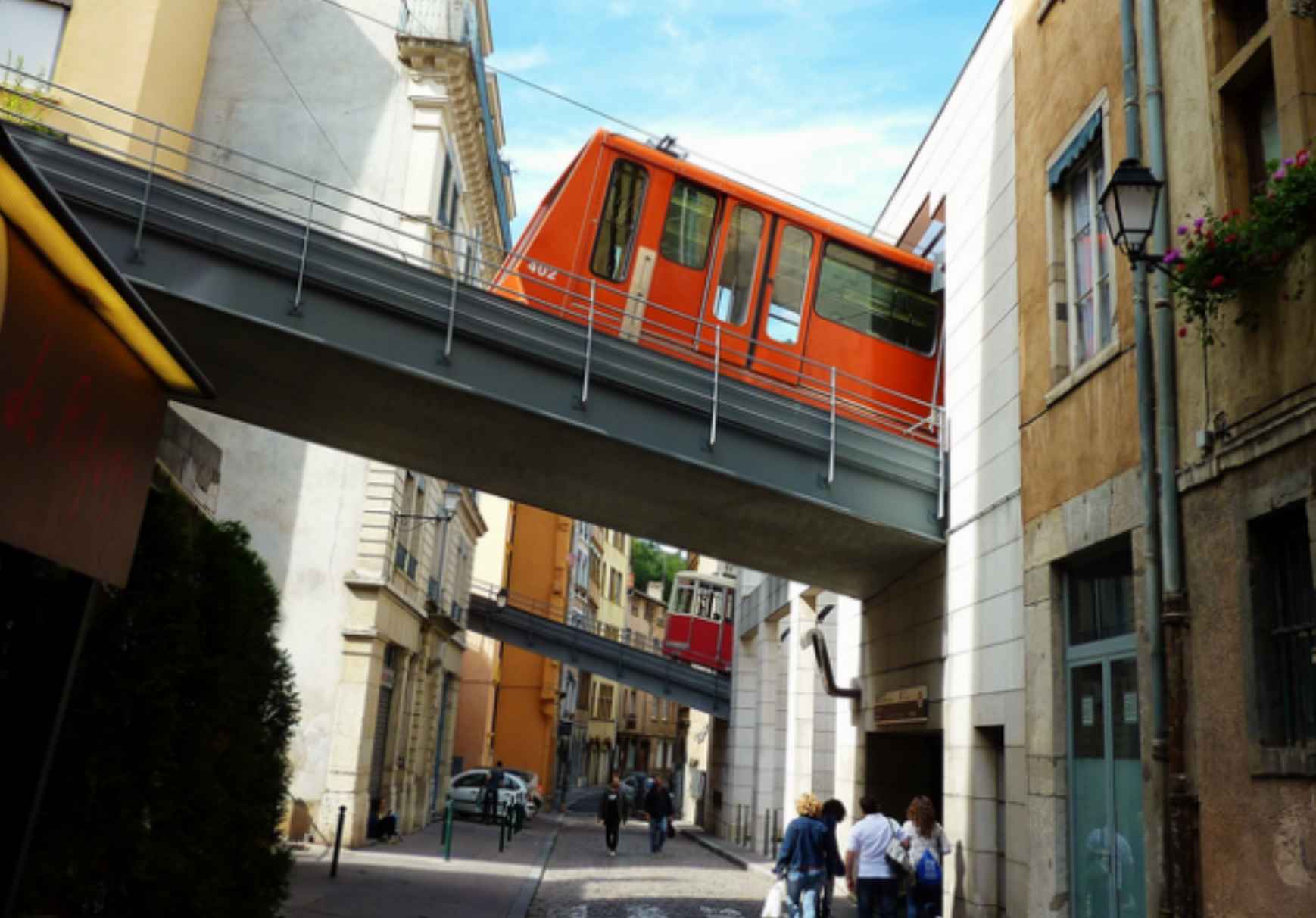 Saint-Just
What price per square meter?
Estimate your property according to its features
With their breathtaking view of Lyon, the Saint-Just and Saint-Irénée neighborhoods are enclaves that seem to be suspended upstream from the city, peaceful but lively, out of the way without being isolated. Much less known than the Old Lyon that they overlook, these neighborhoods of the 5th district of Lyon nevertheless hide some treasures with their medieval alleys and their exceptional panorama.
Living in Saint-Just

Saint-Just is a residential and lively district of Lyon whose personality is rooted in its history. The district is nestled between the Fourvière hill and the Saint-Irénée hill, a bridge between Old Lyon and the West of Lyon.
The site includes Roman remains (Trion Mausoleums, Lugdunum thermal baths in the rue des Farges which date back to the first century), traces of the Middle Ages (Maison du Boeuf Couronné) as well as an important religious heritage (Saint-Just church, Saint-Just High School built on the site of an Ursuline monastery which arrived here in 1633).
The Saint-Just district owes its name to the thirteenth archbishop of Lyon, Saint-Just, whose body was laid to rest in the church of the Maccabees, which took the name of Saint-Just.
Built along the rue de Trion, the district extends from the place de Trion, in the west, to the place des Minimes, in the east. Place de Trion, with its funicular arrival, is the nerve center of the neighborhood and is home to many local shops, cafés and small buildings from the 1970s. From there, you can reach Gorges de Loup and its subway, the Point du Jour, the Saint-Irénée district and of course Fourvière.
Real estate in Saint-Just

You will find in this historic district old houses that blend with more recent condominiums around the rue de Trion and towards Fourvière, in the Antiquaille, luxurious buildings. All the charm of the district is found in its unsuspected houses and gardens. Bourgeois residences or post-war townhouses are very popular for their calm and greenery in the urban area.
Living in Saint-Irénée

Saint-Irénée is one of the oldest districts in Lyon and is a continuation of Saint-Just and Fourvière. The district is residential and has many shops and restaurants. The Saint-Irénée church is located on the site of a Gallo-Roman necropolis. Built in the 19th century, it houses a Carolingian crypt in which the tombs of several Lyon martyrs and that of Saint-Irénée are located. A few minutes on foot, it is possible to go to the Old Lyon, below. A descent that takes place through small medieval streets that house charming apartments, such as La montée du Gourguillon, a small cobbled street with medieval architecture and where we find the oldest house in Lyon (impasse Turquet).
Real estate in Saint-Irénée

Saint-Irénée, just like Saint-Just, has a nice real estate heritage. You will find very old buildings with a lot of charm, benefiting from small interior courtyards and gardens. The old houses are also very popular. The district is evolving and also welcomes more recent constructions. On Avenue Debrousse, beautiful luxury residences were built in 2015 where you will find recent apartments with large terraces overlooking Lyon and a postcard view!
Rare treasures are also hidden in the streets of the neighborhood, including beautiful old houses such as a 16th century castle in Saint-Irénée of 800 m² with a 4000 m² park, a real prestigious property in the heart of Lyon!
Living on the hill of Lyon

With its many local shops, its colleges and high schools attended by a thousand students, the hill, although out of the way, is anything but boring! Tourists and music lovers go to the Roman amphitheater where the "Nuits de Fourvière" are organized every year. The historical past of the "hill that prays" has left some traces in the district which has kept its picturesque charm.
An isolated neighborhood? Certainly not!
Although the residents may feel that they are away from the city (which they appreciate), it is easy to get to the center of Lyon. Via the montée des Choulans, you can drive directly to the Lyon Perrache train station and the Presqu'Île. And for those who prefer to use public transportation, the F1 funicular called "Funiculaire de Saint-Just", which has existed since 1878 (converted into a funicular in 1958) takes them to Vieux Lyon in a few minutes. The district is also served by various bus lines.
There is no lack of green spaces on the hill!
You have the choice: the Jardin des Curiosités which is next to the Lycée Saint-Just and offers a plunging view on the city, the Parc des hauteurs which allows you to reach the city from the Fourvière basilica or the Parc de la Visitation which surrounds the Visitation convent built by Bossan in 1854 and which has recently been transformed into a 4* hotel, the Fourvière Hôtel.
What about going out?

In addition to this luxurious establishment and its restaurant Les Téléphones, Saint-Just has attracted some fine restaurants such as the Christian Têtedoie restaurant with its breathtaking view. Below, Old Lyon has no shortage of gourmet and gastronomic addresses, from the Terrasses de Lyon to La Tour Rose, to name but a few. And for those who want to go out as close to home as possible, go to Bistro la Favorite or Les Caprices de Sophie.
With its cafés and theaters, Vieux Lyon offers a number of nighttime entertainments: Espace Gerson, the Boui Boui ... And for those who would like to perfect their culture, some visits are a must: Gadagne museum, Fourvière Basilica, Miniature and Cinema museum, Lugdunum museum (formerly Gallo-Roman museum) and its theater which delights visitors as well as music lovers who, every summer, attend the Fourvière Nights festival.
School life

Saint-Just and Saint-Irénée live to the rhythm of their students, college and high school students who go to the many schools in the neighborhood every day:
La Sarra public nursery school
La Favorite private elementary school
Albert Camus public elementary school
Ferdinand Buisson public elementary school
Sainte Ursule private elementary school
Saint Just Saint Irénée private elementary school
Notre-Dame des Minimes private elementary school
Jean Moulin public high school and college
La Favorite-Sainte-Thérèse private high school
Notre Dame des Minimes private college
Saint Marc private high school
Saint-Just public middle and high school
Aux Lazaristes School Center
Sainte Marie school, college and high school Lyon
Find the different establishments on the site of Lyon: schools, colleges and high schools in the 5th district.
Discover also in the 5th district of Lyon
the district of Fourvière
.
Your consultants in the sector
Our latest properties for sale on Saint-Just
Geographical data
Saint-Just
HOUSING
Distribution of residences
1,494
Main residence
25
Secondary residence
94
Vacant property
152
Number of houses
1,456
Number of apartments
POPULATION
Age distribution
Total:2,956
Breakdown Male/female*
1,603
Women
1,353
Men
Composition of families
Children under 25
44%
1 child
35%
2 children
16%
3 children
5%
4 or more children
Household marital status: 778 married couples 746 cohabiting couples
EMPLOYMENT AND INCOME *
Socio-professional population category
Medium household income
$25,516.00
Medium household income