James Bansac, Lyon architect
James Bansac comes from a family in Lyon. With a silky grandfather and a painter father, the 3 generations of the James Bansac are a line of creatives.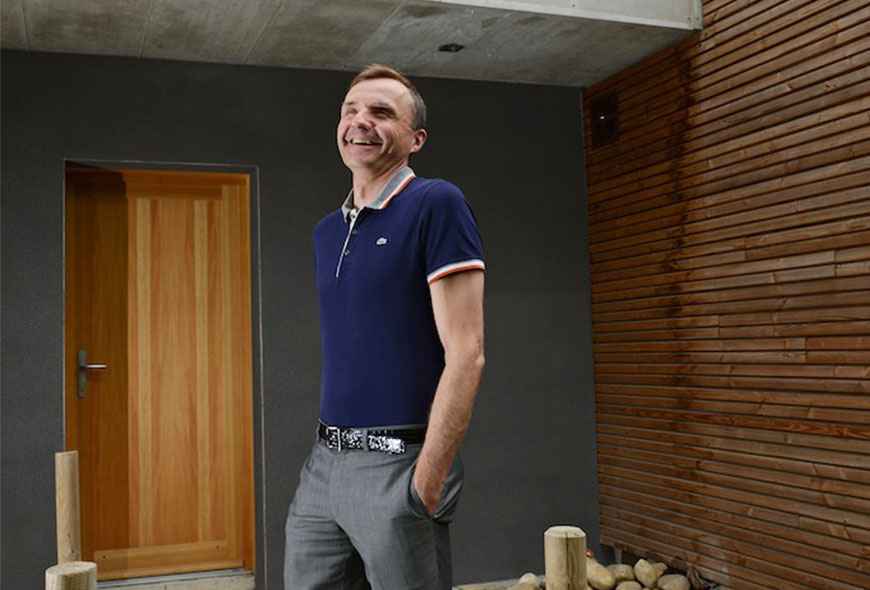 James Bansac comes from a family in Lyon. With a silky grandfather and a painter father, the 3 generations of the James Bansac are a line of creatives.
A route all traced
After graduating as an architect from the School of Architecture in Lyon, James Bansac flies to Atlanta in the state of Georgia in the United States on a scholarship that allowed him to study but also to find his vocation.
During this trip, he met a small community very pious, the shakers. He was then amazed by the creativity in the construction of their wooden houses but also the meticulous achievements. Clean style, refinement and functionality are the words he uses to describe the work of this timeless community. Be constant and take your time, the result of quality assured. He decided to devote himself to the design of individual houses and more particularly those of wood.
Back in France and diploma in hand, he decided to start directly on his own and opened his architectural firm in 1988 in Lyon. He likes to imagine a project by adapting to the future master of the places, their way of life, their needs but also and especially their desires.
Since the 2000s, he has been developing mainly wood frame houses and very contemporary architecture projects.
Architecture in 10 years according to James Bansac
James Bansac explains that in 20 years, architecture has evolved very little aesthetically. In 1998 he built a house in Saint-Romain-au-Mont-d'Or with a flat roof that could have been imagined in 2017.
It is therefore according to him, in individual houses, not to a radical change of aesthetics, but to a democratization that architecture will evolve. Functionalism above all, aesthetics after. Look for elements that will make the difference, that will make a unique home in the eyes of its occupants. In 10 years, architecture will be a pleasure architecture. To illustrate his words, he tells us about his trip to Dubai.
Dubai: unlimited excess
The trip is an integral part of James Bansac's DNA: Japan, Oman, and more recently Dubai, which he tells us like the Las Vegas Arabic. In this deserted place more than 40 years ago, the craziest projects are being built. Dubai is for architecture a place where everything is possible, without any limit. The circuit of formula 1 Yas Marina; one of the largest aquariums, the Dubai Mall located in a shopping center; a dome at - 2 ° C for skiing in the desert, Dubai knows how to create attractiveness at all costs. And where there might be a limit, such as owning a beachfront home, this benefit being limited by the shoreline, and Dubai actually manufactures Palm Islands. This island of palm-shaped sand can multiply this privilege.
It is from this pleasure architecture that James Bansac spoke to us and towards which we are gradually going.
Dubaï Mall
New perspectives
After having managed many challenges, because James Bansac also specialized in complex and steep terrain, he continues his journey with new aspirations.
A house by the sea, play the modernity and attractiveness of water in all its forms, this is the ideal project never realized by the architect but surely soon possible. With the opening of a second architecture firm in January 2018 on the Côte d'Azur, James Bansac is launching new challenges facing the Gigaro Beach.
James Bansac offers our customers BARNES its expertise
Our meeting with James Bansac began with the sale of a contemporary house in La-Tour-de-Salvagny that he realized. Gérald Châtel, Commercial Director of BARNES Lyon, was immediately seduced by the style of this contemporary architect. It is with pleasure that we build a partnership to give our demanding clientele all its expertise.
It offers on the one hand 3D visualization of your project in the field that you plan to acquire. On the other hand, it offers an estimate, a pre-encryption of this 3D proposal. It is during a first meeting that his team will take into account the environment of your future place of life. You then develop, according to your needs, your project. The agency also proposes the renovation of old houses.
BARNES, prestigious agency in Lyon, accompanies you in all your real estate projects and puts you in touch with trusted professionals.
2507 Avenue de l'Europe, 69140 Rillieux-la-Pape – Z.A. Sermenaz, France
+33 (0)4 27 44 15 51
4 Domaine du Bau Rouge, 83320 Carqueiranne, France
+33 (0)6 09 26 88 84
http://www.james-bansac.com/fr/
Contemporary house for sale in La-Tour-de-Salvagny

and designed by Lyon architect James Bansac