Buying a historic apartment
Lyon is a city full of history and its buildings are a constant reminder of this fact. Over the years, architectural styles have flowed into one another, giving rise to long streets lined with magnificent historic apartments.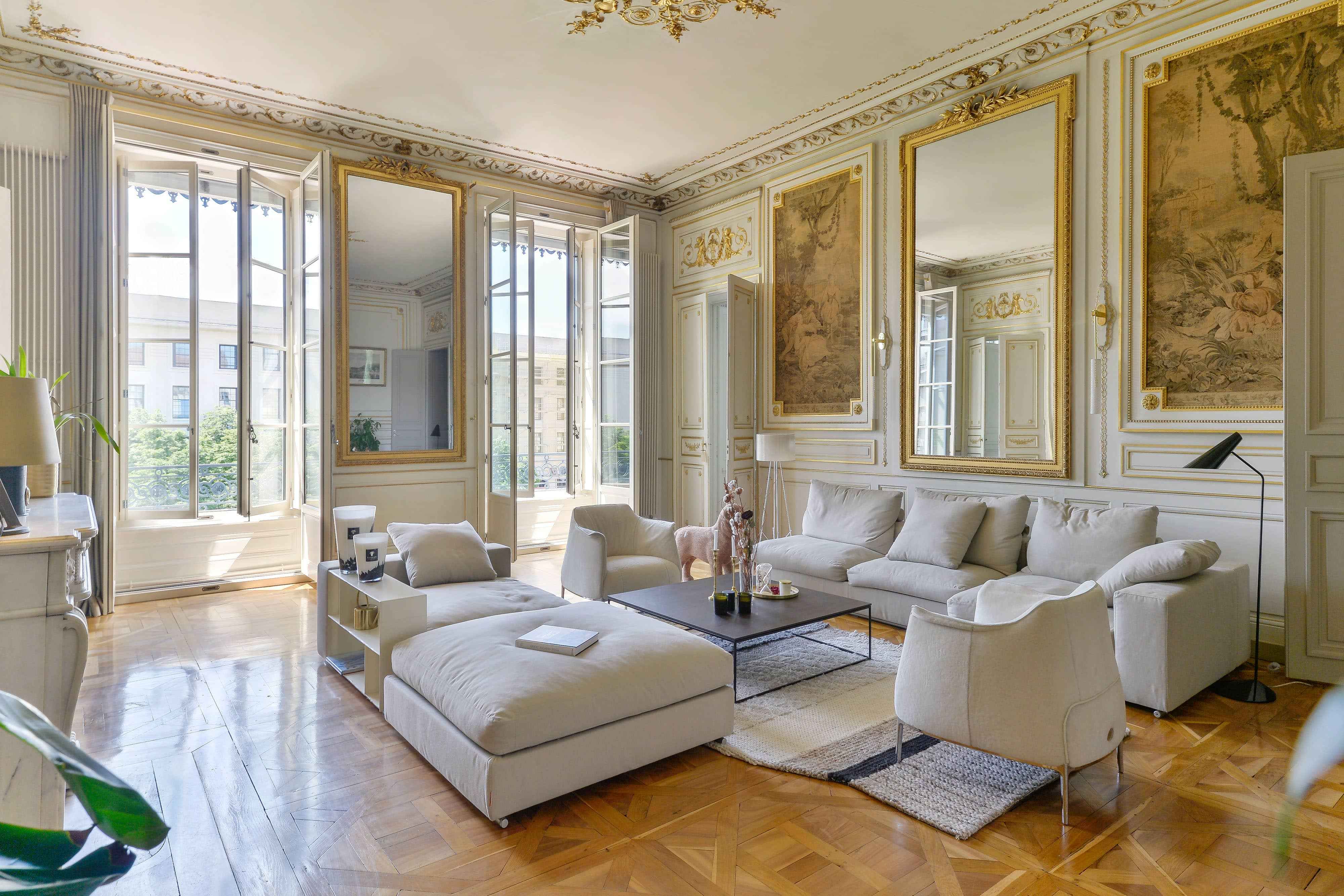 Do you like fine parquet flooring, marble or stone fireplaces, stucco and cornices?
Do you like fine parquet flooring, marble or stone fireplaces, stucco and cornices? If you would like to live in a historic apartment, discover this lifestyle and our properties matching your search criteria. View all of our properties by type and lifestyle on our dedicated page.


Characteristics of a historic apartment

Located in a fine bourgeois building, a historic apartment offers large interiors with extravagant ceiling heights, sometimes up to 4 meters in the case of Lyonnais canuts (silk houses). It also offers original features: solid oak parquet, one or more marble or stone fireplaces, cornices, stucco, ceiling roses, coving, and different types of wainscoting such as stylobates or a French ceiling with exposed beams. The period charm is the no. 1 draw in the sale of a fine historic apartment in Lyon.
What are the extras that enhance a historic apartment?
Being located above ground-floor level with a lift, on at least the 2nd or 3rd floor with clear views, perhaps with a view of the Basilica of Fourvière, in a coveted building, overlooking the quays or a Lyonnais square, dual-aspect, with a balcony or terrace, fully renovated with a fully equipped open-plan kitchen or in need of complete renovation… there are so many search criteria that make a historic apartment exceptional and a home to fall in love with.

An apartment with period charm in Lyon
Many Lyonnais apartments have retained their yesteryear charm. Their charm is displayed through huge ceiling heights, parquet floors, cornices and fireplaces. One of the most important criteria for buyers is undoubtedly parquet flooring.
Different types of parquet flooring
Hungarian Point parquet is composed of chevrons forming a V-shape from the placement of slats that are cut at an angle of between 45 and 52°.
Bâton Rompu parquet with its chevron motif resembles Hungarian Point so closely it can be mistaken for it. But its slats have a 90° right angle forming a V-shape.
Versailles parquet takes its name from the parquet laid in the Château de Versailles. A work of master craftsmanship with a complex composition that never fails to impress with the interlocking diagonals of which it is composed.
Aremberg parquet is a "spin-off" of Versailles parquet, and is assembled on square panels featuring a design.
Evolving surfaces
These apartments have changed a great deal over time and in accordance with the wishes of their owners. Some have retained very large surface areas, whilst others have been divided into two, creating smaller surface areas or joined together to create large family or reception apartments. Large surface areas generally have two stairwell doors that make such changes possible.
Large apartments have spacious interiors with double living rooms, a living room with an open-plan kitchen creating a beautiful living space, a dining room and sleeping area with parental suite and several bathrooms. The cellar and attic make it possible to de-clutter living spaces and achieve a pared-down aesthetic.
Where can a historic apartment be found for sale in Lyon?
BARNES, a real estate agency specialising in luxury properties in Lyon, is here to help you in your search for a bourgeois apartment, a silk-house apartment, either renovated or requiring renovation in the most sought-after areas of Lyon.
25 consultants specialising in the Rhône department are on hand to assist you at our agencies: so give them your dream criteria. They will be by your side from the first viewing to final signature of the deed of sale for your apartment. Visit BARNES today where a single, dedicated agent is on hand to support you. They will use our database to select properties that match your search and refine these as they go through them with you. They will also be able to show you properties that have not yet been published in listings. Indeed, not all of our properties are available via our website as we work with properties that are referred to as "off-market". These are sold in the strictest confidentiality with no advertising, using our network and our customer base.
Buying a historic apartment in Lyon
BARNES, real estate agency in Lyon 2 and Lyon 6, has a selection of apartments for sale in Lyon and the surrounding local areas: