Houses with Swimming Pools for Sale in Lyon
Whether in the countryside, at the heart of a residential district or in the town centre, houses with swimming pools can be found everywhere. A swimming pool is often the little extra amongst the criteria when looking for a property.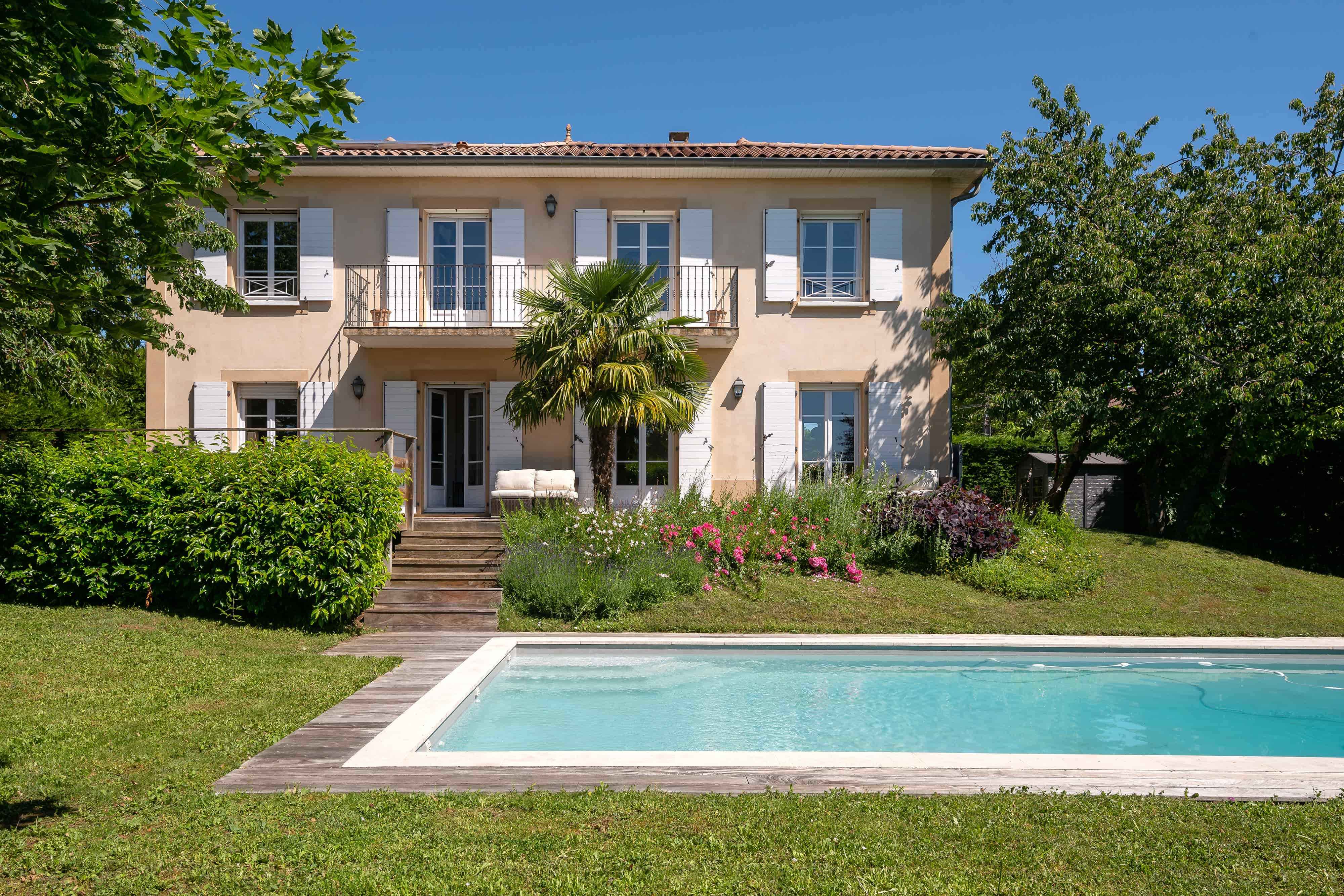 Would you like to enjoy the sun on the terrace, beside your swimming pool, and to be able to take advantage of it every evening and every weekend?
Would you like to enjoy the sun on the terrace, beside your swimming pool, and to be able to take advantage of it every evening and every weekend? If you would like to live in a house with a swimming pool, discover this lifestyle, as well as properties corresponding to your search criteria. You can also find all of our properties according to type and lifestyle on our dedicated page.

Buy a house with a swimming pool
A period house, a newly built detached house or a house on the roof of an apartment building are so many types of properties that may share a common point: a swimming pool! It may be the little extra in the purchase of a property or, indeed, an essential and non-negotiable criterion. Enjoy convivial moments, relax and have fun, in complete privacy, with friends or family, there is no doubt that living in a house with a swimming pool is an attractive lifestyle.
There are numerous possibilities for purchasing a property with a private swimming pool in Lyon and the surrounding area. It is easier to find properties with large grounds and terrace, swimming pool and relaxation area in the areas surrounding Lyon. But surprising living areas can also be found in the heart of Lyon, without grounds, but with very charming, well laid-out patios and… a swimming pool.
The little extras of a house with a swimming pool?
Grounds with an open outlook, a heated infinity edge swimming pool, with a magnificent view: so many criteria that can make for true love at first sight when purchasing a house with a swimming pool. Sometimes, there may be a pool house in the swimming pool area: like a little house with a bathroom, toilet and sometimes a fitted kitchen. A perfect spot for long summer afternoons and evenings! The swimming pool then becomes the ideal place for withdrawing from the world.
Each house has its own style, which is also true of the numerous different kinds of swimming pools.
The different types of swimming pools
Below-ground swimming pools are the most classic, so-called traditional swimming pools. Numerous different layouts are possible with this type of pool, which can be adapted to your wishes.
Semi-underground swimming pools are not completely underground, which has many advantages. They can be built on steeply sloping ground and require less cleaning, since they are not in direct contact with your or any other land.
Above-ground pools are made of wood, PVC or steel and are simply set up in your garden, they do not require any earthworks and are therefore easier and faster to install than a traditional swimming pool.
Infinity edge swimming pools are below-ground swimming pools which "overflow" on one or several sides of the basin, into a second basin below. They are usually made-to-measure, and built with concrete. You can then enjoy an attractive waterfall in your garden, or even better, in front of an open view.
Indoor pools are traditional pools, except that they are located inside your house, apartment or outbuildings, on the ground floor or upstairs. You can then enjoy them throughout the year, whether you have a garden not, the water is at the right temperature whatever the weather and you are protected from bad weather and pollution; a dream come true.
A lap pool is a long, narrow below-ground swimming pool, intended primarily for swimming. They are increasingly fashionable and make it possible to give your garden and original style, while being adaptable to small surface areas. They are usually between 10 and 30m in length and 3m in width, often with a flat bottom, which may not necessarily be very deep.
There are no right or wrong combinations between types of property and types of swimming pools: you may find an infinity pool in a contemporary house or a 19th-century property.
Where to find a house with a swimming pool for sale in Lyon?
Everywhere! Or almost. In the heart of Lyon, houses are available for sale in a number of districts, such as the 3rd, 4th, 5th, and 7th arrondissements, with more or less land. The size of the grounds does not preclude the possibility of finding or building a swimming pool there. In the areas surrounding Lyon, in the Monts d'Or, the Val de Saône and the Ouest Lyonnais, there are numerous possibilities for finding a fine house with a swimming pool. Whether single-story or with several floors, in American or contemporary style, the priority criteria will be based upon the buyer's needs in relation to the house. A detached house with a pool, a manor house with a pool, a house designed by an architect with a pool etc. or without a pool, which may be subsequently added and built according to your tastes.
BARNES Lyon has two agencies in Lyon with a team of 25 consultants in the various different areas of the 69 département. They will assist you in your research and provide you with advice on your intended purchase. Discover this selection of houses with swimming pools and do not hesitate to entrust them with your search criteria.
Houses with Swimming Pools for Sale in Lyon
BARNES, Estate Lifestyle in Lyon 2 and Estate Lifestyle in Lyon 6, offers you a selection of houses for sale in Lyon and neighbouring communes:
If you like this lifestyle, you will certainly like: