Contemporary apartment
Buying a contemporary apartment in Lyon or the surrounding area means choosing modern design, sophisticated comfort and a privileged urban location.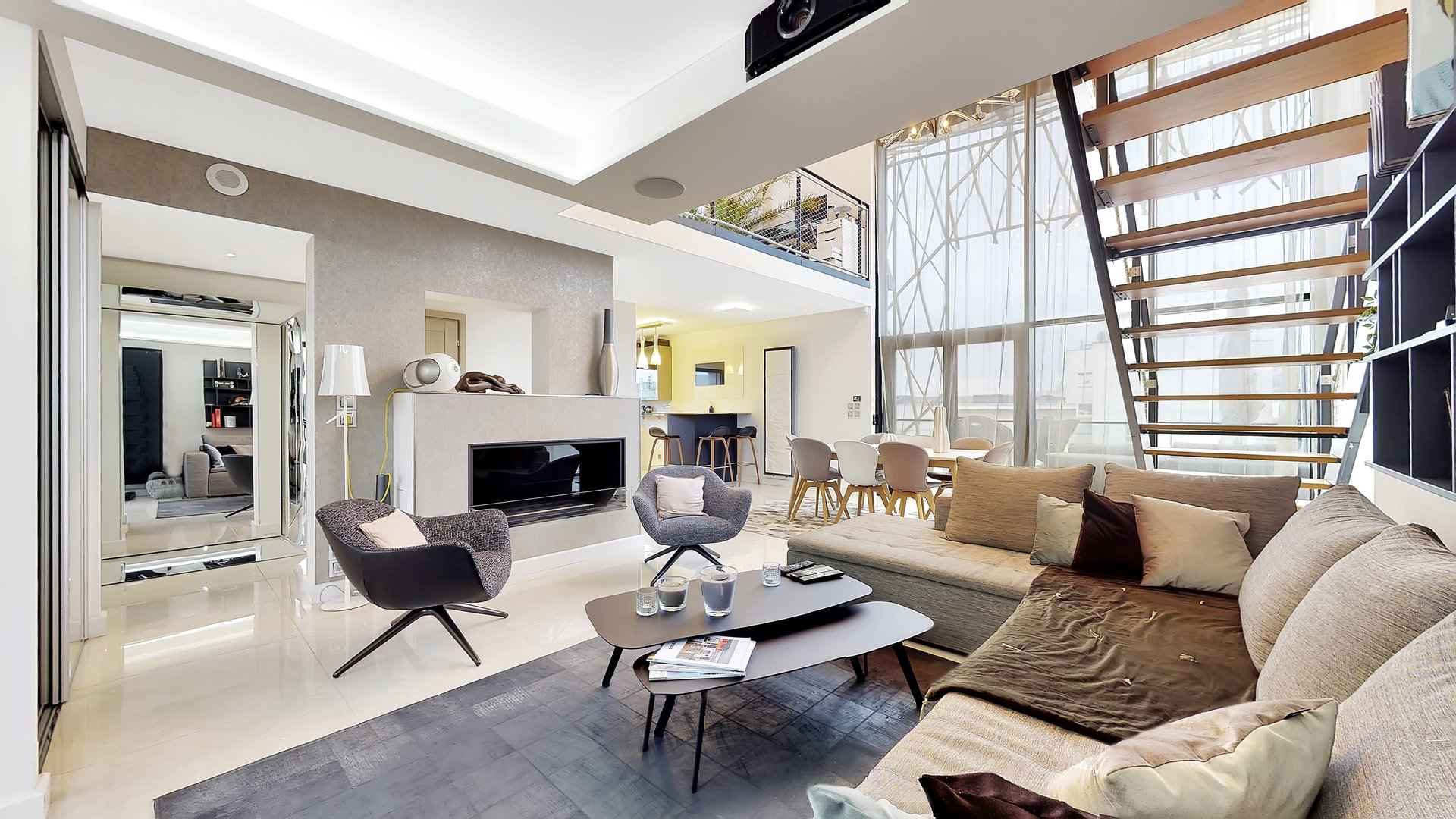 Live the contemporary life that suits you: elegance, comfort and modernity
You swear by contemporary apartments and are looking for the place of your dreams in the Lyon area? BARNES offers you the most beautiful contemporary apartments in Lyon and the surrounding area for a unique lifestyle. Discover our selection of apartments with clean lines, open spaces and minimalist design. Make your dream of a contemporary home a reality!
Lyon, an emblematic city of French architectural and cultural heritage, offers a dynamic real estate market for lovers of contemporary apartments. These modern and refined properties are increasingly sought after by those who aspire to an urban lifestyle, combining contemporary design, comfort and amenities. Whether you are a buyer looking for a new living space or an investor looking for a lucrative opportunity, discover our contemporary apartments for sale with our real estate agency in Lyon.
Characteristics of a contemporary apartment

Contemporary apartments in Lyon are distinguished by their modern and refined aesthetics. These properties often feature open spaces, clean lines and high-end finishes. Quality materials, such as marble, noble wood and glass, are used to create sophisticated and elegant interiors. Large floor-to-ceiling windows allow the spaces to be flooded with natural light, providing a bright and airy atmosphere. Whether you are looking for a spacious loft, an apartment with an open view or an apartment on the ground floor, BARNES Lyon offers a wide range of apartments for sale in order to satisfy everyone's tastes.
In addition to their contemporary design, contemporary apartments in Lyon offer optimal comfort. The apartments are equipped with modern amenities and state-of-the-art technologies, guaranteeing convenient and enjoyable daily life. The kitchens are fitted with high-end appliances and worktops in noble materials, while the bathrooms feature top-quality fittings and elegant finishes. In addition, many contemporary properties in Lyon offer private outdoor spaces such as terraces, balconies or gardens, allowing residents to fully enjoy sunny days.
Discover the most beautiful contemporary apartments at BARNES Lyon
BARNES Lyon is a prestigious real estate agency specializing in high-end real estate in Lyon and its surroundings. Our team of passionate experts provides you with an exclusive selection of the most beautiful contemporary apartments in the region. Whether you are looking for a contemporary apartment in the heart of Lyon or in the surrounding popular districts, we offer you a personalized experience and tailor-made support to find the property of your dreams.
Our contemporary apartments are distinguished by their modern design, high-end finishes and state-of-the-art equipment. Whether it's a bright loft in the trendy Confluence district, a penthouse with panoramic views of the Presqu'île or an elegant apartment in the Monts d'Or, our contemporary properties embody the luxury, comfort and elegance.
At BARNES Lyon, we understand the importance of finding the right contemporary apartment that matches all of your criteria and your lifestyle. Our dedicated team of experts is on hand to guide you through the buying process, providing you with their expertise of the Lyon real estate market and their in-depth knowledge of the city's sectors.
Contemporary apartment in the most beautiful areas of Lyon
Lyon is full of emblematic sectors offering an ideal setting for people looking for a contemporary apartment that combines luxury and urban lifestyle. These prestigious neighborhoods are distinguished by their dynamic atmosphere, their proximity to local amenities and their architectural richness. Discover the most beautiful districts of Lyon where you can find contemporary apartments with top-of-the-range services.
Contemporary apartment in the Presqu'île district
Located between the two rivers, the Presqu'île is the historic and commercial heart of Lyon. It is a lively district, renowned for its luxury boutiques, gourmet restaurants and emblematic monuments such as Place Bellecour and the Hôtel de Ville. The contemporary apartments located on the Presqu'ile offer the perfect blend of historic charm and modern design, with stunning views of cobbled streets and historic buildings.
Contemporary apartment in the Confluence district
The Confluence district is a striking example of contemporary architecture in Lyon. Formerly an industrial area, it has been transformed into a modern and ecological district. Contemporary apartments in this area offer bright spaces, sophisticated interiors and eco-friendly amenities. You can enjoy the banks of the Rhône and the Saône, the parks and gardens, as well as the many trendy shops and restaurants.
Contemporary apartment on the slopes of Croix-Rousse
The Croix-Rousse district is renowned for its bohemian atmosphere and its history linked to the silk industry. There are charming contemporary apartments with artistic touches, high ceilings and windows that offer panoramic views of the city. This dynamic district is also home to artists' studios, trendy cafés and the famous Croix-Rousse market.
Contemporary apartment in the Part-Dieu district
In the heart of Lyon, the Part-Dieu district is a major economic center of the city. It is also known for its modern architecture and iconic skyscrapers, such as the Oxygen Tower. Contemporary apartments within this district offer spacious living spaces, high-end finishes and immediate proximity to the Part-Dieu shopping center, public transport and services.
Contemporary apartment around Lyon
If you are looking for a contemporary apartment near Lyon, you will also find a multitude of attractive addresses in the vicinity of the city. The surrounding areas strike the perfect balance between countryside tranquility and proximity to urban amenities. Discover the wonderful opportunities to live in a contemporary property near Lyon.
Contemporary apartment in Mont d'Or
Located north of Lyon, the Monts d'Or region offers picturesque landscapes and breathtaking views of the city. You will find contemporary apartments nestled in charming villages such as Saint-Cyr-au-Mont-d'Or or Champagne-au-Mont-d'Or. These accommodations offer a peaceful setting, surrounded by nature, while being only a few minutes from downtown Lyon.
Contemporary apartment in the Saône Valley
The Saône valley is renowned for its charming villages and bucolic landscapes. Contemporary apartments are available there in towns such as Neuville-sur-Saône or Rochetaillée-sur-Saône. These properties offer a peaceful living environment, with panoramic views of the Saône, while benefiting from the proximity of public transport to easily reach the center of Lyon.
Contemporary apartment in Beaujolais
The Beaujolais wine region, located north of Lyon, offers a peaceful atmosphere and exceptional natural beauty. Picturesque villages such as Fleurie, Morgon or Saint-Amour are full of contemporary apartments in tastefully renovated buildings, combining the charm of the old with modern comfort. You will be able to enjoy the renowned vineyards and the serenity of the countryside, while being a short drive from Lyon.
Contemporary apartment in the Côtes du Rhône
If you are looking for a contemporary apartment near Lyon, the Côtes du Rhône region is an attractive option. Modern properties are available in towns such as Ampuis and Condrieu, offering an elegant and refined living environment in the heart of the renowned vineyards of the Rhone Valley. You can enjoy magnificent landscapes, wine tastings and an exceptional quality of life, while being very close to Lyon.
By choosing to invest in a contemporary apartment in one of these districts or in one of these regions around Lyon, our prestigious real estate agency invites you to discover exclusively its contemporary apartments for sale in Lyon and around Lyon .
Why invest in a contemporary apartment in Lyon?
Lyon is a city in full expansion, with many urban development and infrastructure projects underway. By investing in a contemporary apartment in Lyon, you can benefit from the potential for long-term capital appreciation. The valuation of real estate in the region is promising, due to growing demand, tourist attraction and urban renewal projects.
In addition, Lyon is regularly ranked among the best cities to live in France. It offers an exceptional quality of life, with its rich cultural heritage, renowned gastronomic scene, green spaces and proximity to nature. Investing in a contemporary apartment in Lyon allows you to benefit yourself from this quality of life or to attract quality tenants who appreciate this attractive environment.
Without forgetting that Lyon benefits from a strategic geographical location, with excellent connectivity to other major French and European cities. The city is served by an efficient public transport network, including railway stations, international air links and highways. This facilitates movement and offers optimal accessibility.
Our real estate agency specializing in contemporary apartments in Lyon is there to support you throughout your investment and thus help you find the contemporary apartment of your dreams. Browse our listings and find with BARNES the ideal property for living or investing.