Contemporary House Lyon
Respecting its surroundings, a contemporary or designer house will blend in and integrate perfectly into the Lyon region. Whether on a hilltop to enjoy a panoramic view over Lyon or nestled in the privacy of woodlands, discover our finest contemporary houses.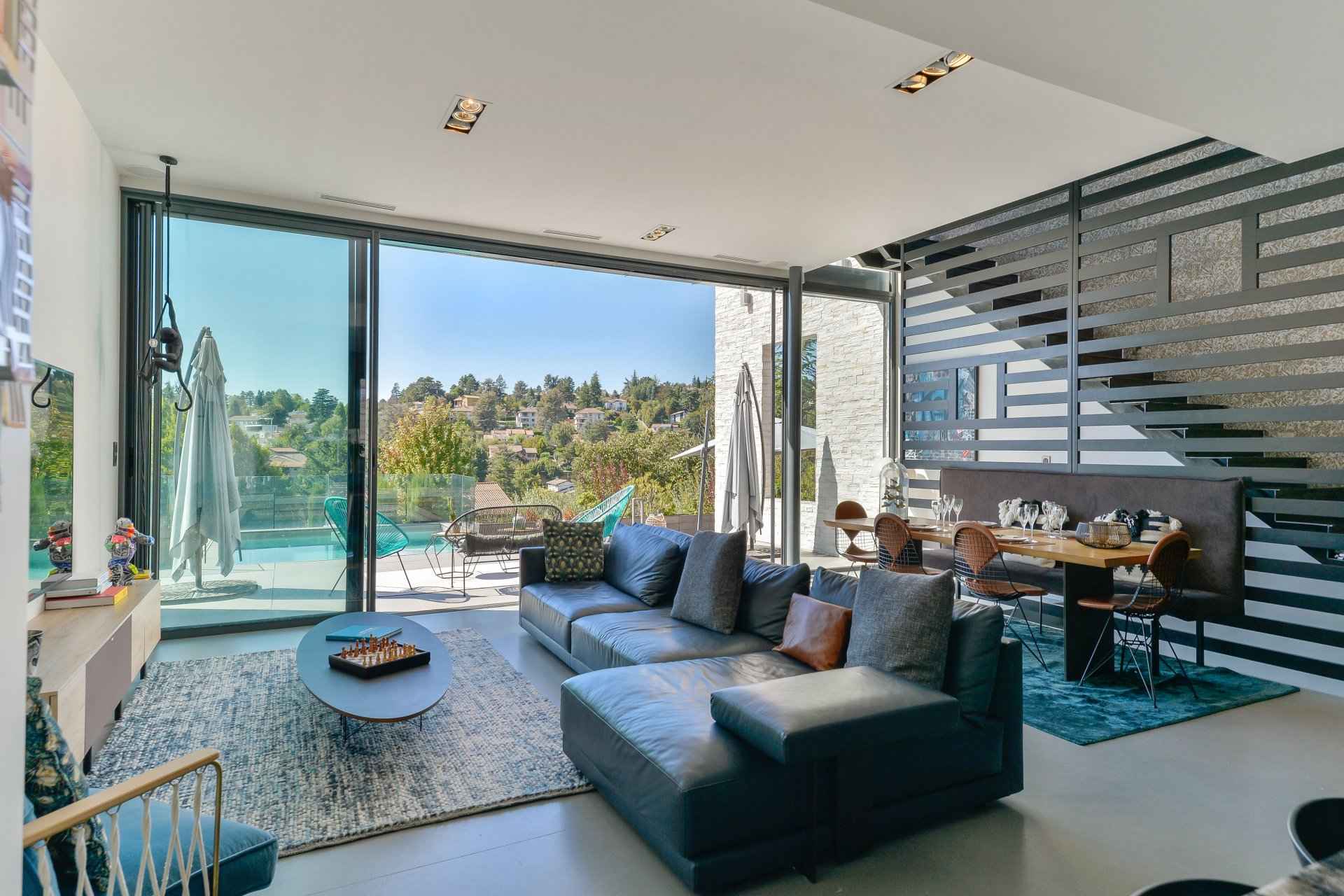 Do you like a minimalist style, spacious volumes that open onto the exterior, and modern comforts?
Do you like a minimalist style, spacious volumes that open onto the exterior, and modern comforts? If you would like to live in a contemporary house, discover this lifestyle and our properties matching your search criteria. View all of our properties by type and lifestyle on our dedicated page.

Characteristics of a contemporary house

These easily recognisable contemporary houses are built in a minimalist style with cubist forms and geometric dimensions. Their styles can also depend on the architect or contractor to whom the construction project was entrusted, depending on their specialist expertise.
Designed to offer the comforts of modern living, contemporary or designer houses are structured with a spacious layout. On the ground floor, their vast living spaces open onto the exterior through large full-height windows, bathing the room in light. They offer modern fixtures and fittings with designer kitchens and bathrooms.
What are the extras that enhance a contemporary house?
With a flat, green roof, in large grounds with a heated pool, located near to public transport, conveniences and schools, automated, alarmed, with a double garage, these are the criteria that make a contemporary or designer house stand out.
Where can a contemporary house be found for sale near Lyon?
Whether single-storied or on more than one floor, these are often built on enclosed land and nestled in a quiet residential area a few minutes from Lyon. However, you can find contemporary houses in Lyon itself, in the Montchat area for example in Lyon's 3rd arrondissement.
BARNES, a real estate agency specialising in prestigious properties in Lyon, is here to help you with your real estate project: finding a contemporary house near Lyon. 25 consultants specialising in the Rhône-Alpes region are on hand to welcome you at our offices. They will be by your side from the first viewing to final signature of the deed of sale for your house.
Contact BARNES to find your dream property. You'll be supported by a single agent: your BARNES consultant. A selection will be made based on what you are looking for, using our database of all our real estate listings. Your real estate agent will offer you as a priority properties for which advertising has not yet been started. Indeed, not all of our properties are available via our website as we work with the utmost discretion on exceptional properties that are referred to as "off-market". This means that no advertising is allowed and it is through our network and our customer base that new owners are found for properties.
Contemporary house in Lyon and the surrounding areas: neighbourhoods and areas
Only certain neighbourhoods have houses for sale in Lyon: in the 4th arrondissement, for example in Croix-Rousse, in the 3rd arrondissement, in Montchat, or in the 7th and 8th arrondissements. You may even find some extremely rare gems in the 5th arrondissement.
Around Lyon, there are many areas in which these ultra-modern houses have been built, like the Monts d'Or in Saint-Didier-au-Mont-d'Or, in the West Lyon area in Charbonnières-les-Bains or in La Tour de Salvagny. The Val de Saône contains many such houses due to the large number of plots for sale and especially plots already sold. Prices vary depending on the sector. For example, the architect James Bansac offers high-quality flat-roofed properties starting at €246,000 for 150 sq.m.
Contemporary houses for sale
BARNES, real estate agency in Lyon 2 and Lyon 6, has a selection of houses for sale in Lyon and the surrounding local areas:
View our articles:
If you like this lifestyle, you will definitely like: